Robert Pollak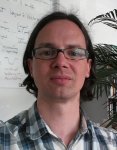 Master degree (Diplom-Ingenieur) in Technical Mathematics at JKU Linz in 1997
Commercial C++ software development since 1999
Research Assistant at FLLL since 2008
robert.pollak@jku.at
FLLL/JKU
FLLL: +43 (0) 7236 3343 - 430; JKU: +43 (0) 732 2468 - 4149
OpenPGP Key: 2EFF 9545 1A62 E29B

In Refereed Collection:
Klement E., Bauer P., Bodenhofer U., Mittendorfer-Holzer M., Pollak R., Richter R., Exner H.: PapaGeno – vollautomatische menschenähnliche Qualitätskontrolle für Aufdrucke auf Compact Discs, in: Maria Wirth, Andreas Reichl, Marcus Gräser (Eds.): 50 Jahre Johannes Kepler Universität Linz. Innovationsfelder in Forschung, Lehre und universitärem Alltag, Page(s) 265–282, Böhlau, 2017.
In Proceedings of Refereed Conference:
Lughofer E., Pollak R., Zavoianu C., Meyer-Heye P., Zörrer H., Eitzinger C., Haim J., Radauer T.: Self-Adaptive Time-Series Based Forecast Models for Predicting Quality Criteria in Microfluidics Chip Production, in: Proc. of the IEEE Cybernetics Conference 2017, Series IEEE Cybernetics, IEEE Press, 2017.
Presentation in Refereed Conference: